Variable frequency drive in Grinding Machine
This application is about the tension control principle of variable frequency drive applied to the stainless steel grinding machine. Trial run shows the
VFD manufactured by Gozuk
can achieve as prominent performance and reliability as imported ones of its kind, but price is pretty lower.
As rapid development of Chinese economy and urbanization, stainless steel is widely used in the fields of auto, construction, household appliance and environmental protection due to its merits of portability, environment- friendliness. It can be said that China's urbanization builds on the expansion of stainless steel. Especially in recent several years, China's stainless steel industry has become more and more flourishing. However, a long way still lies ahead for China to improve the production capacity of its stainless steel industry and enhance product quality and competitiveness. Gozuk vector control VFD with a mass of upgraded functions, has successfully achieved high performance and reliability based on prominent software and hardware. Field operation indicates the variable frequency drive is pretty suitable to the stainless steel industry, with excellent performance that can challenge foreign ones.
In the process of stainless steel, grinding and laundering techniques play a decisive role to the quality of the product. The former system consists of the unwinding machine and winding machine driven by a 5.5kW motor respectively, and the press roller and grinding belt driven by a 2.2kW motor respectively, The synchronous controller determines the speed of the four dynamic points by sending 0~10V signals to the VFD.

However, the said system has several weaknesses as follows:
The four driving points cannot run synchronously at the same line speed due to inconsistent force given to each dynamic point
The unwinding machine is driven by a common VFD, which is more inclined to cause V1 into OU fault.
The motors of the press roll and grinding are vulnerable to offline at low speed, which will reduce product quality
The winding machine frequently comes across overload and stall fault, and the steel belt is vulnerable to distortion due to too large tension
Inconvenient to operate, easy to cause bodily injury
Introduce vector control VFD
In order to avoid the said weaknesses, V1, V2, V3 and V4 must be the same. Gozuk GK3000 series drives can solve the problem. Main features of the
vector control VFD
:
This series VFD is pretty applicable to the large inertia and potential load with strict requirements in accuracy, response time and torque.
Owns massive advanced functions, including energy saving control, speed control, slip compensation, torque compensation, moment control, servo control, motor-autotuning and parameter copy.
Four control modes for option: V/F control, V/F control with PG, magnetic flux vector control, and magnetic flux vector control with PG.
High starting torque at low speed: in the mode of closed-loop control, the series VFD can realize 150% rated torque at the zero speed.
Speed control width can reach 1:1000
Output frequency accuracy is within ±0.01%,and speed control accuracy is within ±0.02%
Multifunction input/output terminals, multifunction analog input/output function and serial communication function make operation more convenient.
Perfect parameter online monitoring function, fault analysis function, protection and alarm function guarantee reliability of the VFD.
VFD main features
Gozuk GK 3000 series VFD adopts SPWM technology and sensorless vector control mode, applicable to open-loop universal machines.
Automatic torque boost function can provide high start torque; automatic slip compensation and motor autotuning functions guarantee the VFD running with high accuracy.
stable operation
Multiple control modes fulfill online parameter monitoring and regulating.
Parameter copy function effectively secures the debugging time.
Built-in PID regulator brings convenient automatic control.
Pulse input given can realize closed-loop control, with better control accuracy and shorter response time.
Built-in energy saving operation function can enhance effectively the motor's power factor and efficiency.
Massive functions for option, like PLC timing, pulse output, and multifunction terminal output, etc.
Built-in RS-485(MODBUS)communication port,in addition to optional PROFIBUS communication card, can satisfy various requirement of users.
Tension control
The so-called tension control is to control the motor's output torque through controlling its output force moment. Gozuk vector control VFD can realize three tension control modes:
1. Closed-loop control (speed mode): Through real-time computation of the material's linear speed and roll diameter detected by PLC, to realize PID closed-loop control between the tension signal fed back by the tension detection device and the tension setting, and adjust the output frequency of the VFD
2. Open-loop control (torque mode): A rotary encoder (
how to reduce noise?
) need be added when the variable frequency drive works in the closed-loop mode. Convenient to operate; no need to install tension feedback device.
3. Closed-loop control (torque mode): On the basis of 2, to realize PID closed-loop control between the tension signal fed back by the tension detection device and the tension setting, and adjust the output torque of the VFD, so as to realize high-accurate tension control.
Here we will introduce the second control mode:
Open-loop control (torque mode)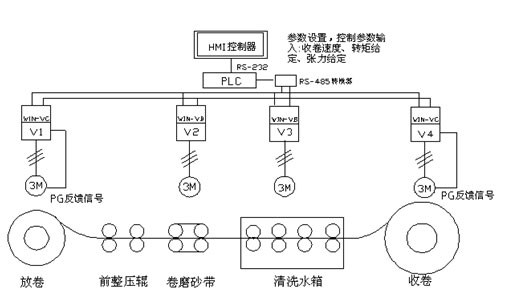 Before trial run, make sure the parameters of the four moving points have been set properly (
how to set?
), and verify all the protection functions have been enabled, and the upper/lower bounds of the speed and the torque have been set correctly.
Moreover, please pay attention to the following:
1) All the moving points should go through the non-load test
2) In the process of trial run, please modulate the parameters, like torque compensation, torque boost, ASR parameter, etc, so as to make sure all the moving points have the same speed.
Conclusion:
Gozuk vector control
VFD
can help the users realize precise tension control in the unwinding and winding processes. And the new system is more convenient, more secure and more reliable. In addition, this system can help boost the users' production capacity and enhance product competitiveness.