220V/380V variable frequency drive
This low voltage (single phase 220V, three phase 380V) variable frequency drive manufactured by Gozuk has compact design and integrated advanced technology for new features, like tracking the motor speed in real time, automatic running in instantaneous power off, it's a very useful function in unstable power supply environment. Dynamic current control and output high torque under
very low frequency
.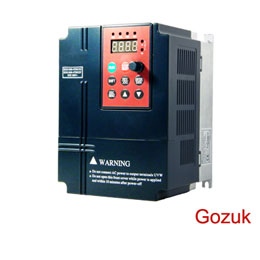 VFD Features:
High-performance optimized voltage space vector V/F algorithm and high efficiency VFD, low noise and low electromagnetic interference.
15kW and below VFDs are equipped with build-in braking unit.
High-performance bipolar PID with correction function is convenient for closed-loop control.
Motor speed monitor function allows smooth start for various loads such as centrifuges and dewatering machines anytime.
Built-in software special for constant pressure water supply system enables one VFD to control two pumps simultaneously without adding extra expansion unit.
English LED control panel with friendly human-computer interface (Chinese LED control panel available as well)
Real time clock timing control (easily set the variable frequency drive running time)
VFD applications:
Widely used in textile, cable, printing& dying, washing, fans & pumps, package, Plastic extruding machines, machinery, ceramic, constant pressure water supply, constant temperature control and OEM.