Mini variable frequency drive
This variable frequency drive adopts binuclear CPU professional customized core calculation program, the advanced technology of shifting three phase control into two phase and reducing the produced heat.
Display board could be extended, which makes the VFD remote control possible; I/O multifunction design integration with easier and more convenient control; the drives interface could be customized.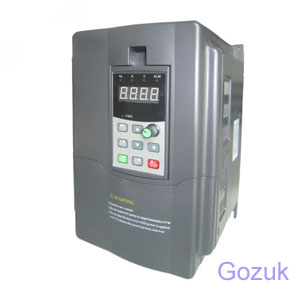 The VFD has separation design of up in and down out for main circuit, which could reduce the rates of fault operation.
Standard equipped frequency setting button, frequency could be adjust under simple operation.
Kindred design style of software parameter, which would not change the operation habit and could be set easily.
VFDs features
Select SVPWM or barebone SPWM adjusting techniques.
Output frequency range 0.1~400Hz.
VFD frequency setting revolution rate up to 0.1Hz.
Output frequency revolution rate upto 0.1Hz.
PWM frequency carrier could be adjusted from 2~12kHz.
Auto torque increasing and auto slip compensation.
When the variable frequency drive starts torque reaches 5Hz, the torque could be 150% of rated torque.
Jog frequency could be set as 3 points from 0.1~400Hz.
Acceleration /deceleration time 0.1~6000 s (2 sections of acc /dec time could be set separately).
Speed loss protection standard, could be set according to motor load and 50%~200% of the VFD drives rated current.
Direct current braking, could be operated from 0.1~60.0Hz on stop, braking current 1~approximate 100% of rated current.
Start time 0~60.0 s, stop time 0~60.0s.
Available to set V/f curve.